Judy Cain Dance Studio

If you rest you rust, come dance with us

You don't quit dancing because you grow old

you grow old because you quit dancing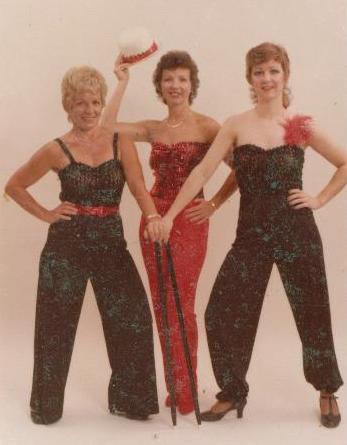 I grew up dancing. My Mother Martha Galvin Fritz, had a very successful dance studio in Massillon for 32 years, when she retired from her studio she came to my Akron studio to dance and teach children's classes. Before Martha opened her studio in 1948 she enrolled me in dance classes with Betty Adelman and Helen Gray. In my early teens I attended many workshops and also studied from Reynolds & Mclavaney in Canton.
During my teen years I danced in Annie Get Your Gun at the Canton Players Guild. Our show ran for 9 months and had a standing ovation at almost every performance. After Annie the Players Guild also booked local talent and I worked with them throughout my high school years. They introduced me to

Gene Carrol and I appeared on his Sunday & Monday television shows many times as well as the Rising Stars television program

. Gene called me and he had an engagement for me to appear on the Ed Sullivan Show but at that time I was busy raising a family and after my 4th child was born I started a dance studio in my home in the Portage Lakes area, my daughter was in high school and she was helping me teach the classes, we built an additional studio on at our home but quickly outgrew that too.
We moved to the

Manchester Administrative Building at 6075 Manchester Rd

. We offered gymnastics, tap, ballet, jazz, baton, ballroom, piano, special tutoring, modeling, cheerleading, exercise & kindernastics classes. I became an officer in the Ohio Professional Dance Teachers Association.I was a certified gymnastics judgealso was certified to teach aerobics through theAFFA American Federation For Aerobics. For many years you could "Exercise with Judy" on the local cable television, I also did a few commercials (both national & local), have taught Master dance classes at workshops. I have tried to retire and step aside for the younger generations to take over but my love of dance won't let me stay away too long.
I am still teaching at the administrative building but at this time only offering dance classes for adults.

Current classes

available are tap, jazz, line and ballroom dancing. My Mother, Martha, at the age of 86, was still water skiing as often as she could find a boat driver, in the winter months she would transfer her skiing over to the slopes where she loved to snow ski, on Wednesdays you could find her at the Jitterbug Club, she also took 2 to 3 dance classes a week and still loved to perform with the Tap Kats. My Mother, passed away in February 2009, her last performances with the Tap Kats was in January 2009. I miss her terribly, she was my best friend.
Myson Scott Hilbert, is an investor, his wife

Claire

and he have 4 children,

Tom

is studying to be a Nurse,

Greg

is a financial advisor in Texas,

Anna

will have her teaching degree this year (2011),

Victoria

is in college at Northwestern, son

Chris Cain

owns a fleet of trucks, son

John

works for First Energy and his wife Kelly have 3 children, Rebecca & twins

Michael & Natalie

all are students. I am very proud to say my daughter,

Kim Haas

, has used her dance back ground and currently instructs exercise classes at St Michael's Church. My daughter is married to

Bob

, when they married they merged 2 families together, Bob has 2 sons and Kim has 1 son Beau that passed away September 4, 1996 at the age of 19 and Kim also has adaughter

Melissa

, she has blessed my daughter with Grandson,

Joey

.
There is no love like the one for family but dancing is pretty close.